KlingerEducational
Regular price
$260.50
Sale price
$225.00
Unit price
per
Sale
Sold out
Whiteboard Optics Set
A comprehensive and economical set of equipment for ray optics
and color experiments using magnetic-backed components that can be used on the included whiteboard or any installed steel whiteboard. The whiteboard has a usable surface of 23" x 15.5" and has swiveling feet on two sides so that it can be set up in wide or tall format. The double-ended light box contains a 12V/20W halogen lamp powered by a wall-mount AC adapter and cooled by a built-in fan. One end carries a cylindrical lens and slots for mounting the three slit diaphragms for ray optics.
The other end carries two adjustable mirrors and an open area for color mixing work using colored filters that fit into slots in the ray box.
Dimensions: Optical parts set - 12" x 11" x 3.75", Whiteboard - 24" x 17.25" x 1" (including feet)
Weights: Optical parts set - 3 lb, 7 oz, Whiteboard - 5 lb, 9 oz.
Contents: 1 23" x 15.5" Whiteboard 1 double-ended light box 1 Convex Acrylic Lens 1 Concase Acrylic Lens 1 Semicircular Acrylic Lens 1 Rectangular Acrylic Block 1 Acrylic Right Angle Prism 1 Acrylic Equilateral Prism 1 Acrylic Equilateral Prism 1 30°/60°/90° Prism 1 Hollow Acrylic Rectangular Cell for Water Refraction 1 Plane Mirror 1 Adjustable Concave/Convex Mirror 1 Matched Set of Seven Color Filters 1 Set of Seven Corresponding Colored Paddles 1 10" x 10" White Card Screen 1 Card Protractor Circle 4 Magnets to hold Protractor 1 Experiment Manual 1 Storage Box with Molded Inserts
Share
View full details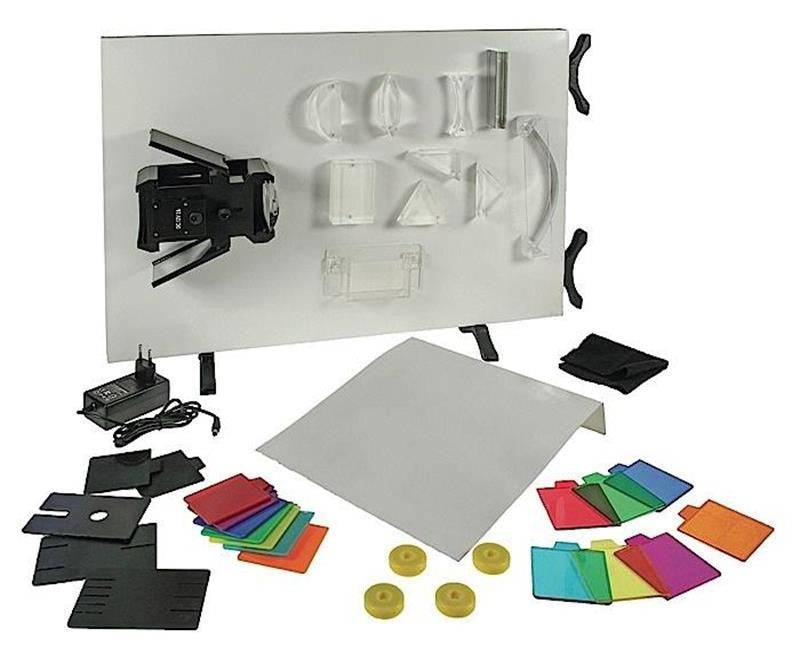 Do you need a formal quote for your purchasing department?
Add your products to the shopping cart. Then, at checkout, click "Request A Quote."
 Your cart will be emailed and saved for either you or your administrator to come back and execute the order.