Klinger Educational Products
Regular price
Sale price
$195.00
Unit price
per
Sale
Sold out
Cesium Chloride
Caesium chloride or cesium chloride, is the inorganic compound with the formula CsCl. This colorless solid is an important source of caesium ions in a variety of niche applications. Its crystal structure forms a major structural type where each caesium ion is coordinated by 8 chlorine ions. Caesium chloride dissolves in water. Caesium chloride occurs naturally as impurities in carnallite (up to 0.002%), sylvite and kainite. Less than 20 tonnes of CsCl is produced annually worldwide, mostly from a caesium-bearing mineral pollucite.
Caesium chloride is widely used in isopycnic centrifugation for separating various types of DNA. It is a reagent in analytical chemistry, where it is used to identify ions by the color and morphology of the precipitate. When enriched in radioisotopes, such as 137CsCl or 131CsCl, caesium chloride is used in nuclear medicine applications such as treatment of cancer and diagnosis of myocardial infarction. Another form of cancer treatment was studied using conventional non-radioactive CsCl. Whereas conventional caesium chloride has a rather low toxicity to humans and animals, the radioactive form easily contaminates the environment due to the high solubility of CsCl in water. Spread of 137CsCl powder from a 93-gram container in 1987 in Goiânia, Brazil, resulted in one of the worst-ever radiation spill accidents killing four and directly affecting more than 100,000 people.
The caesium chloride structure adopts a primitive cubic lattice with a two-atom basis, where both atoms have eightfold coordination. The chloride atoms lie upon the lattice points at the edges of the cube, while the caesium atoms lie in the holes in the center of the cubes. This structure is shared with CsBr and CsI and many binary metallic alloys. In contrast, the other alkaline halides have the sodium chloride (rocksalt) structure. When both ions are similar in size (Cs+ ionic radius 174 pm for this coordination number, Cl− 181 pm) the CsCl structure is adopted, when they are different (Na+ ionic radius 102 pm, Cl− 181 pm) the sodium chloride structure is adopted. Upon heating to above 450 °C, the normal caesium chloride structure (α-CsCl) converts to the β-CsCl form with the rocksalt structure (space group Fm3m).
This model is hand made in the USA by Klinger Educational Products. This is a permanent structure. We only use grade A materials. The 1 inch balls are made of hard Maplewood that includes an enameled painted finish. Polished steel rods are used to connect the wooden balls together.
Cesium includes  35 1 inch balls.
Share
View full details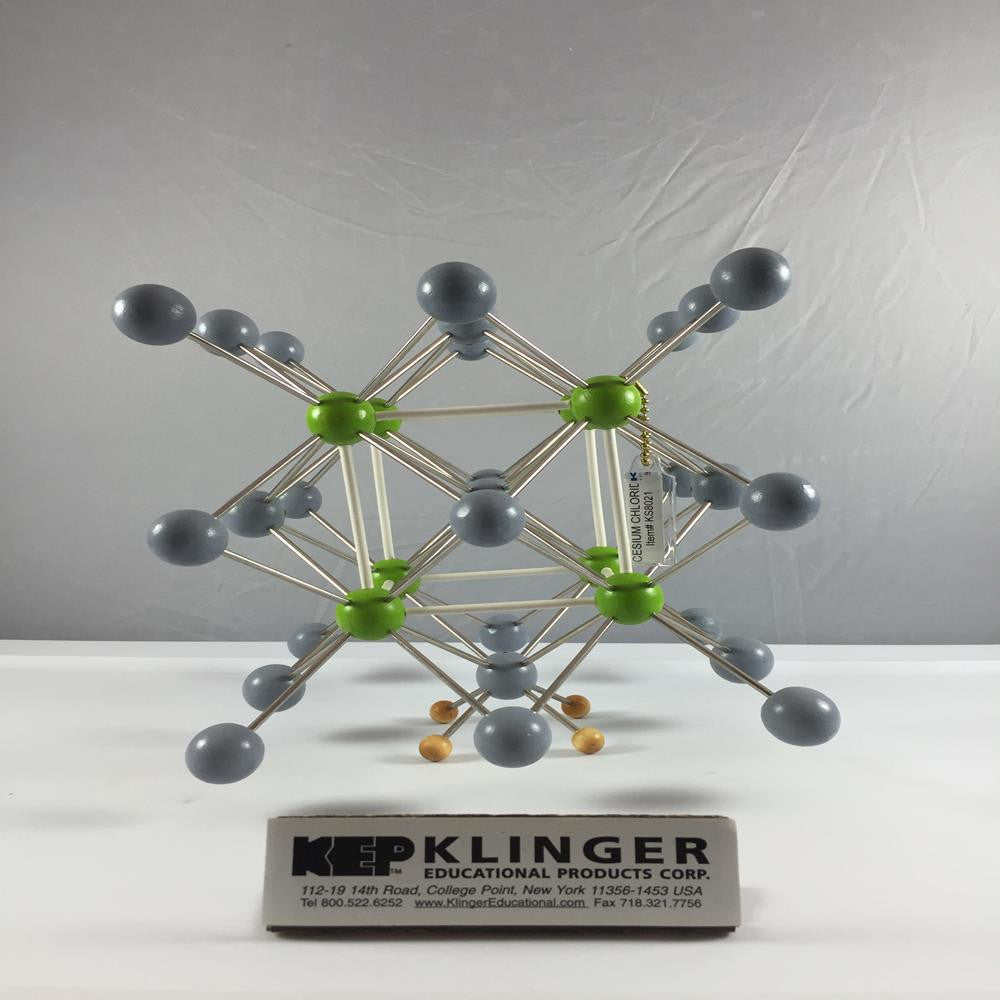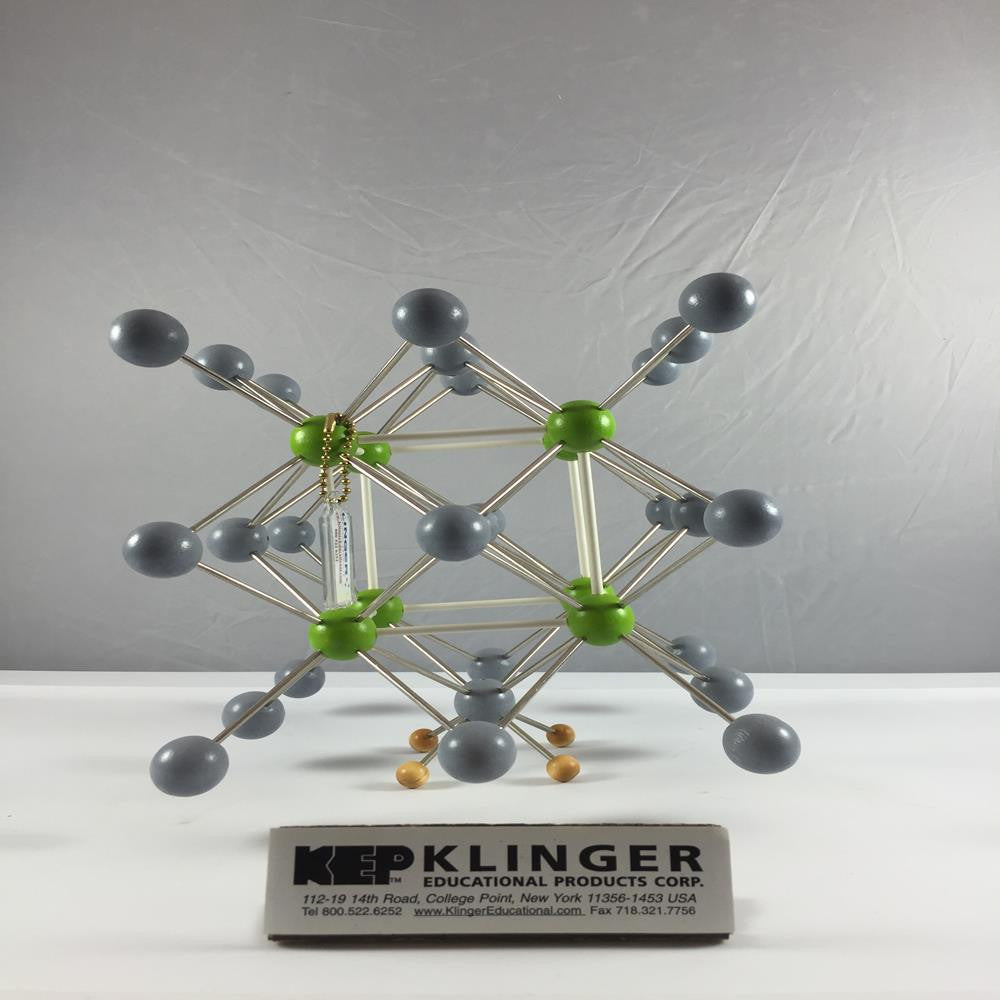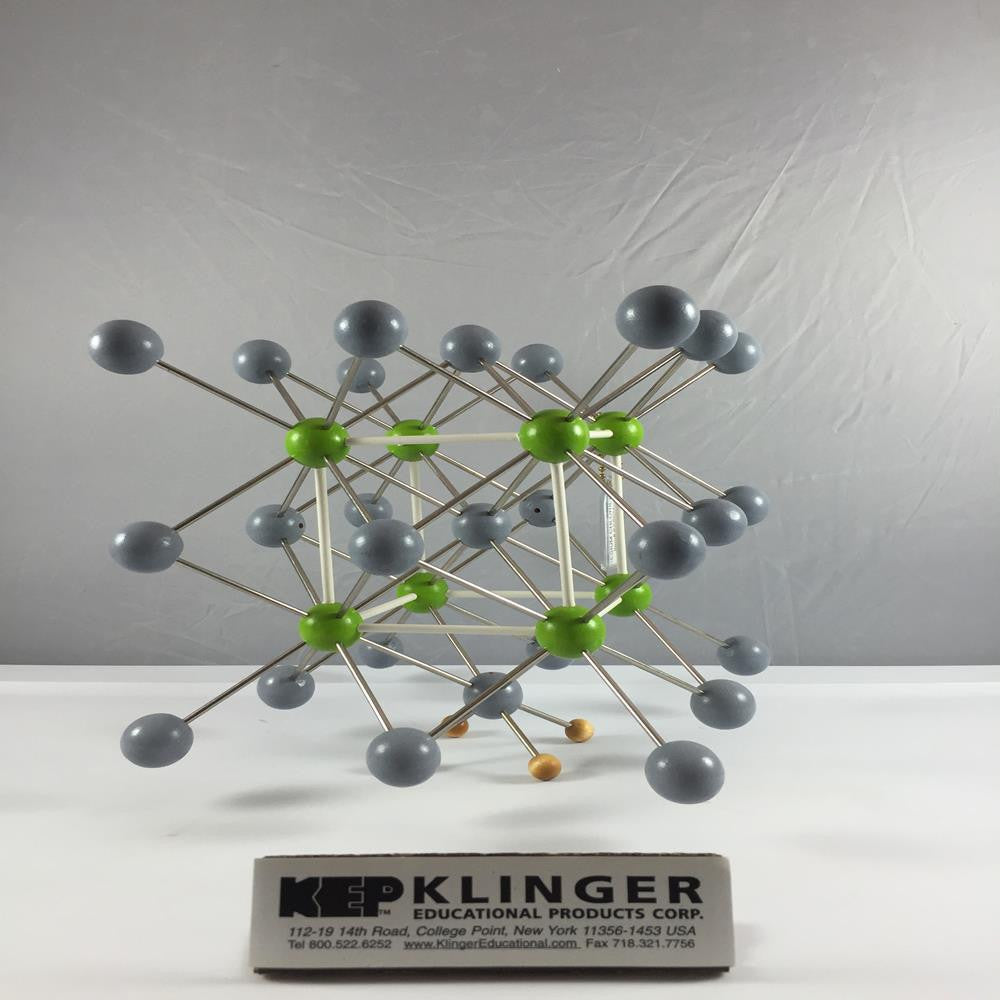 Do you need a formal quote for your purchasing department?
Add your products to the shopping cart. Then, at checkout, click "Request A Quote."
 Your cart will be emailed and saved for either you or your administrator to come back and execute the order.