Klinger Lasers
Regular price
Sale price
$1,275.00
Unit price
per
Sale
Sold out
Klinger Laser's Astro Laser Set
This set has been designed for simple and clear demonstration of the principles of astronomical phenomenons. The set contains a total of 8 topics and 29 tasks divided into 14 example sheets.
The Astro Laser Set presents massively extended version of our best-selling product – Ray Optics Demonstration Set, but focused on area of astronomy. This newest teaching equipment is intended and applicable for almost all age groups - from 8 year-old children to adults. Its goal is to acquire basic astronomical knowledge in an interactive way. The set improves the quality of teaching and offers the new possibilities in this constantly evolving field of science.
The Astro Laser Set uses two different independent sources of light (white LED, red and green laser light), which represent the Sun or the stars and are visible even in normal daylight or under artificial lighting in the interior. The kit contains plastic elements that present cosmic bodies (Earth, Moon, exoplanet ...) and optical elements (lenses, mirrors, etc.). The working drawings have exactly marked positions where optical elements, light sources and other objects are supposed to be placed during each task.
All topics and tasks can be conducted by a lecturer of the class in the field of astronomy, physics, optics, mathematics, geometry, etc. Some optical elements from the set (lens, scattering, semicircle, mirrors) can be used to explain and represent other optical phenomena (refraction of light, light reflection, etc.). Every element is taped with magnetized foil at the bottom, allowing intuitive attachment to a magnetic board.
Astro Laser Set contains:
Instruction manual – printed
Light sources – white LED, red and green laser raybox
Optical models (15 pcs) – 4 different lenses, 8 pieces of different of mirrors, equilateral prism
Astro objects – Earth, Moon, Albedo, Exoplanet, Earth's atmosphere, bottom pads for the Moon
Example sheets (14 pcs) for very simple and quick preparation of demonstration.
The whole set is stored in a lightweight plastic case allowing comfortable transport. The demonstration is done quickly if the desired objects are located on assigned positions on the sheets:
1 – View Of The Sky
2 – Electromagnetic Radiation Spectrum
3 – Phases Of The Moon
4 – Eclipses
5 – Albedo
6 – Galilei Telescope
7 – Kepler Telescope
8 – Spherical Aberration And Its Correction
9 – Newton Telescope
10 – Cassegrain Telescope
11 – Hubble and James Webb Space Telescope
12 – Radio Telescope
13 – Searching For Exoplanets By Eclipsing Method
14 – Variable Stars
Share
View full details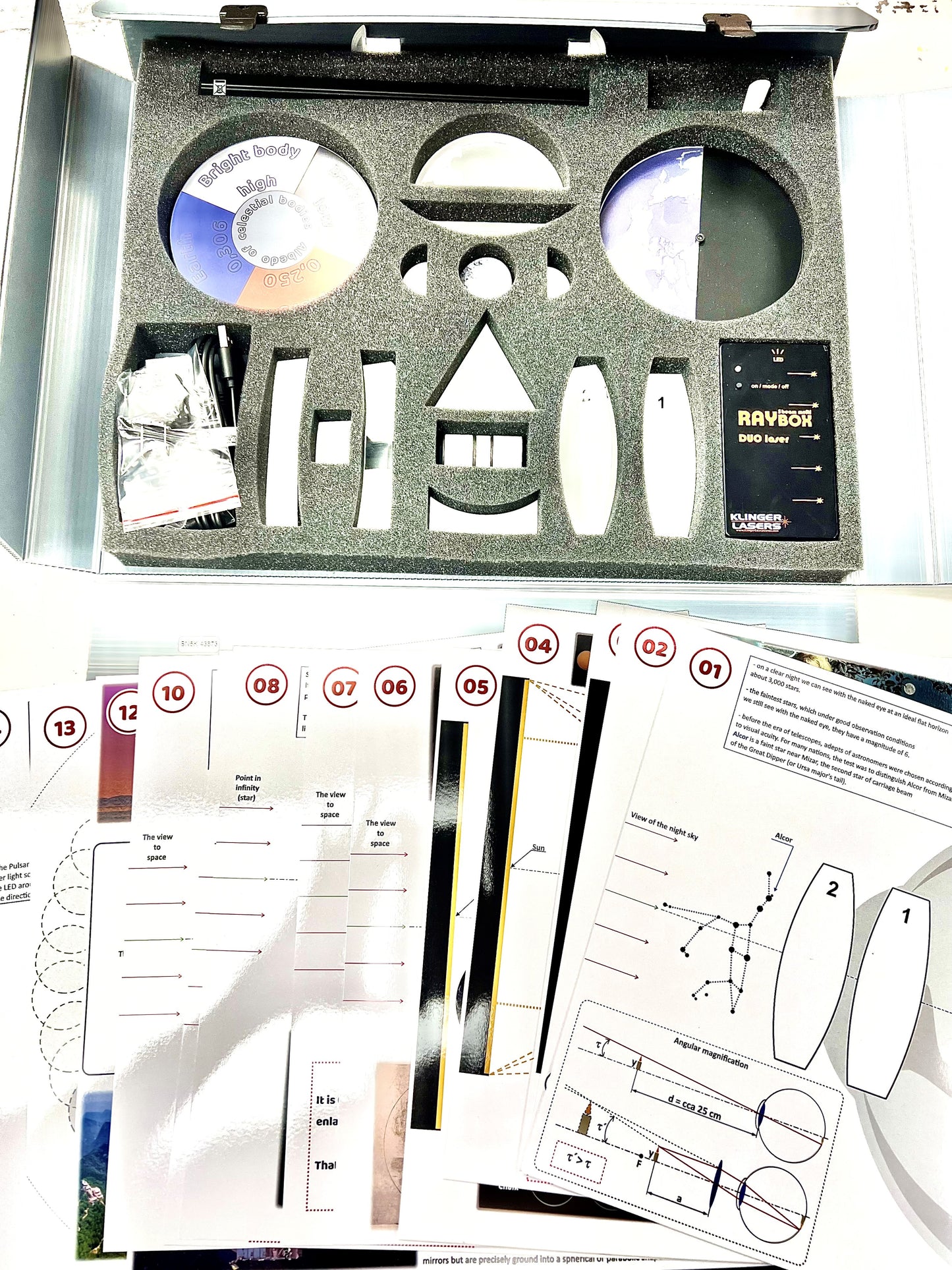 Do you need a formal quote for your purchasing department?
Add your products to the shopping cart. Then, at checkout, click "Request A Quote."
 Your cart will be emailed and saved for either you or your administrator to come back and execute the order.