Leybold LD Didactic
Regular price
Sale price
$15,240.00
Unit price
per
Sale
Sold out
Computed Tomography Module
Records the 2D-projections of an object illuminated by x-rays within a few minutes. During the recording of the 2D-projections, the e-learning software visualizes the back projection process in two or three dimensions alternatively. After the scan the complete 3D-object is available to be viewed (rotating, zooming, transparency effects, projections, illumination similar to the Heidelberger ray-tracing model).Well-resolved images of various objects can be obtained in spite of the simple measuring method and the low energy of the x-ray radiation (35 keV) from the educational x-ray apparatus. The 3D-computed tomogram of various objects can be evaluated qualitatively and quantitatively. The learning involved in the preparation of the scanning process and image evaluation is emphasized. Additionally, a suitable x-ray apparatus (554 811USB or 554 801, X-ray tube W 554 864) and a powerful computer are required.
PC Requirements
The real-time recording and evaluation of a computed tomogram need a powerful CPU and graphics card.
For performing CT scans the following minimum requirements apply:
• Windows XP SP2 or Windows Vista (32 bit or 64 bit)
• Dual-Core CPU 2 GHz
• 2 GB RAM
• DirectX 9 compatible 3D-graphics card with shader model 3 support and 256 MB RAM
(Nvidia GeForce 7600 / 8600 or better)
• creen resolution 1024x768 (TrueColor)
• USB 2.0 port
For larger computed tomograms we recommend a more powerful PC:
• Windows Vista (32 Bit or 64 bit)
• Quad-Core Processor 2,4 GHz
• 3 GB RAM
• DirectX 9 compatible 3D-graphics cards with shader model 3 support and 512 MB RAM
(ATI Radeon 3850 /Nvidia GeForce 8800 or better)
• Screen resolution 1280x1024 (TrueColor)
• USB 2.0 port
Technical Data:
• Mounting of the object at the goniometer of the X-ray apparatus
• Maximum object size: approx. 8 x 8 x 8 cm³
• Object resolution: approx. 0.25 mm
• Angular resolution: 1 - 720 2D projections per computed tomogram
• Size of the computed tomogram: 200 - 340 pixels per dimension
• Connection of the module to the computer: USB 2.0 port
• Connection of the X-ray apparatus to the module: USB 2.0 port
• Separate video output: Cinch (CCIR)
• Mains voltage: 230 V, 50/60 Hz
• Dimensions: 53 cm x 34 cm x 24.5 cm
• Weight: 13.5 kg
Scope of delivery:
• Computed tomography module
• Computed tomography software
• Object (small dried animal, e.g. frog)
• Cell (e.g. for water)
• Object holder including polystyrene holder
• USB cable
INSTRUCTIONS FOR USE PLEASE CLICK HERE
EXPERIMENT INSTRUCTIONS PLEASE CLICK HERE
Share
View full details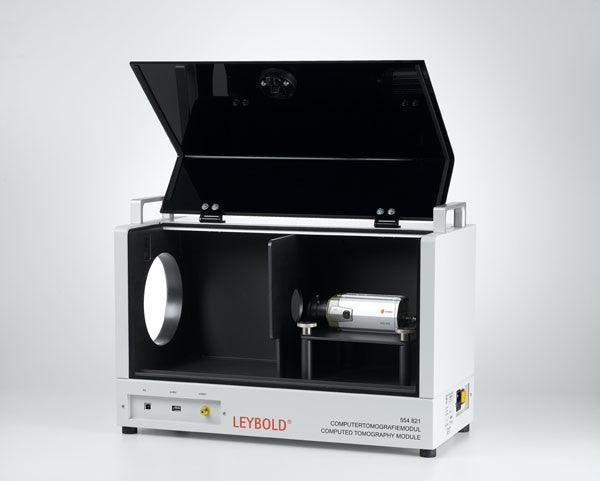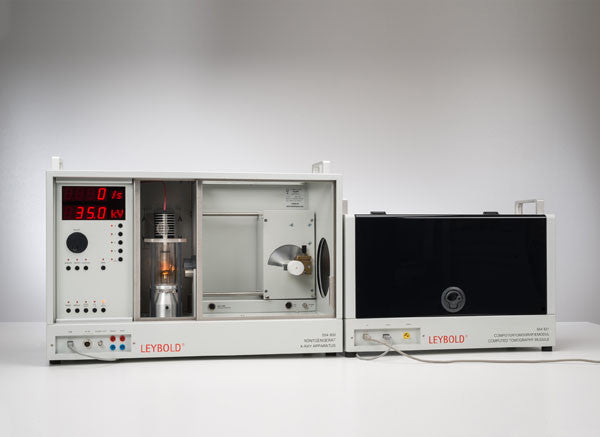 Do you need a formal quote for your purchasing department?
Add your products to the shopping cart. Then, at checkout, click "Request A Quote."
 Your cart will be emailed and saved for either you or your administrator to come back and execute the order.