Leybold LD Didactic
Regular price
Sale price
$29,930.00
Unit price
per
Sale
Sold out
X-Ray Apparatus Mo, Complete
*ALL TIME BEST SELLER*
Complete Fully-featured, microprocessor-controlled device with x-ray tube Mo and goniometer designed for conducting a wide variety of experiments in x-ray physics.
The high-voltage system, x-ray tube and experiment chamber are all within a radiation-proof housing. German type approval as school x-ray apparatus and full-protection device. The type approval is also valid for further x-ray tubes (Fe, Cu, Ag, W, Au). The x-ray tubes are delivered completely adjusted and allow thus an easy and user-friendly exchange. Highest safety and operation comfort by an automatic door locking, which unlock the doors automatically, when no x-ray radiation is generated.
Two large displays show all relevant information on the current experiment. The tube voltage and tube current can be set in the ranges 0 to 35 kV and 0 to 1 mA respectively. The built-in rate meter including counter-tube voltage supply enables direct measuring in conjunction with a Geiger-Muller counter tube. The x-ray apparatus can also be connected to a PC via the USB-port (software included) for recording Bragg spectra. Alternative the two analogue outputs (counting rate and angular position) permit data acquisition using a chart recorder. The goniometer (554 831) enables precise setting of any angular position of the sensor and the target as well as coupled 2:1 sensor and target motion, both manual and automatic angular scans are possible. Two screened coaxial lead-ins and one free access duct provide access to set-ups in the experiment chamber, e.g. for connecting an x-ray energy detector. Device fully assembled and adjusted, ready for operation. 
Technical Data:
• School X-ray apparatus and fully protected equipment with German type approval for school use
(approval no. BFS 05/07 V/SchRöV) (suitable for the operation with the interchangeable tubes: Fe, Cu, Mo, Ag, W)
• Dose rate at a distance of 10 cm: <1 µS/h
• Two independent safety circuits for doors, high voltage and emission current (safety approval by TÜV Rheinland and according to requirement regulations for PTB 2005 type approval
• Automatic door locking: doors can be opened only, when no high voltage is present i.e. no X-ray radiation can be generated (safety approval by TÜV Rheinland and according to requirement regulations for
PTB 2005 type approval)
• High voltage: 0 ... 35.0 kV (regulated DC voltage)
• Tube current: 0 ... 1.00 mA (independent regulated DC)
• Visible X-ray tube with molybdenum anode for characteristic short-wave radiation:
Kα = 17.4 keV (71.0 pm), Kβ = 19.6 keV (63.1 pm)
• Fluorescent screen for transilluminator experiments: d = 15 cm
• Built-in rate meter including voltage supply for GM counter tube
• Loudspeaker: for audible ratemeter
• Two 4-digit displays (25 mm high) for displaying the following as desired: high voltage, anode current, counting rate, target/sensor angle, scanning range, step width, gate time
• Goniometer (554 831), stepper-motor-controlled
Operating modes: manual control and automatic scan for sensor only, target only, 2:1 coupling
Angular range:
Target unlimited (0° ... 360°) Sensor -10° ... +170° Step width: 0.1°
• Exposure timer, gate time: 0.5 s ... 9999 s
• Bushes in the experiment chamber: high-voltage coaxial cable, BNC coaxial cable, empty channel for e.g. tubing, cable etc.
• Analogue outputs: each proportional to target angle and to counting rate for chart recorder connection
• USB port for connecting a PC to control the X-ray apparatus, data recording and evaluation by the delivered Windows software
• LabVIEW and MATLAB driver for Windows available free of charge at http:/www.ld-didactic.com for user defined controlling and measuring.
• Input voltage: 230 V (±10 %)/47 - 63 Hz
• Power consumption: 120 VA
• Dimensions: 67 cm x 48 cm x 35 cm
• Weight: 41 kg
Scope of delivery:

X-ray apparatus with molybdenum tubes
NaCl crystal (554 78), lattice spacing: 282 pm
Cover for fluorescent screen
Software for Windows 2000/XP/Vista/7/8/10
Experiment description on CD (document center)
Additionally required
| | | |
| --- | --- | --- |
| 1 | 559 01 | End-window counter with cable for α, β, γ and X-rays |
INSTRUCTIONS FOR USE PLEASE CLICK
HERE
https://youtu.be/Ved2NysfW78
https://youtu.be/_lvUCqfszJA
Share
View full details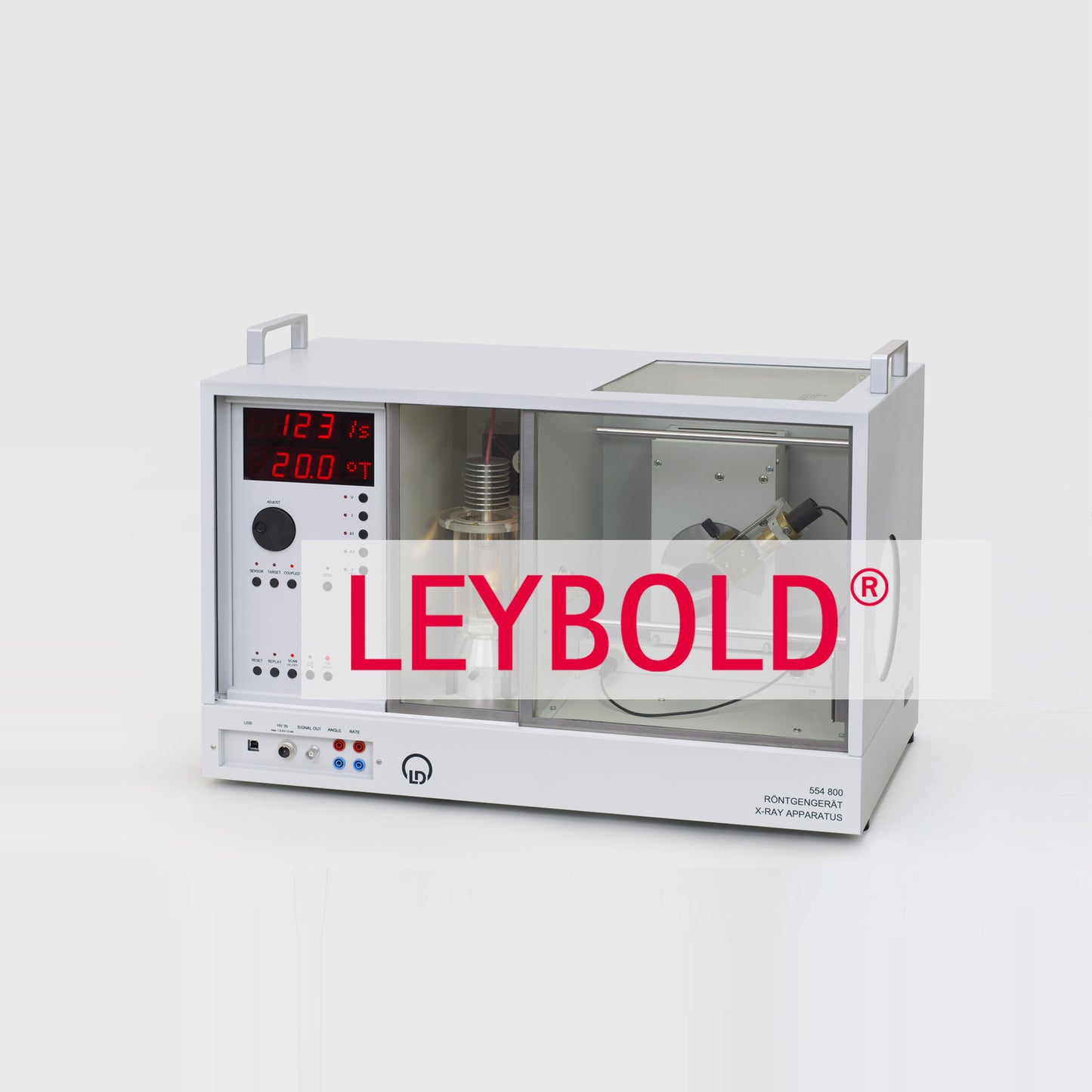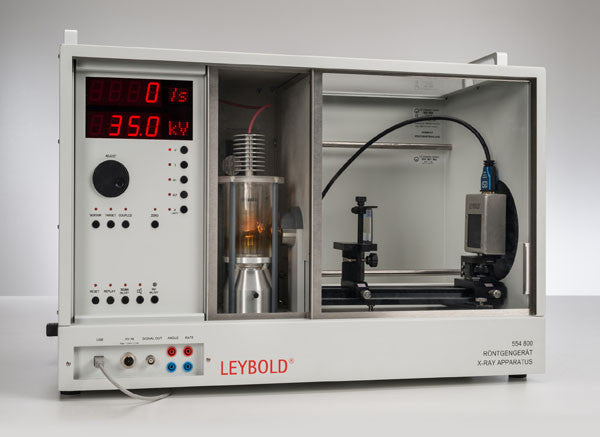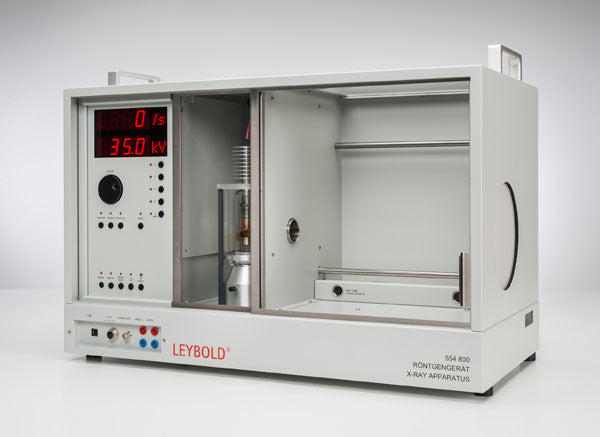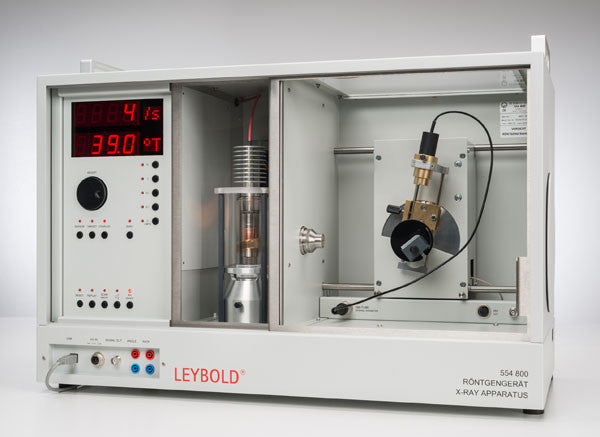 Do you need a formal quote for your purchasing department?
Add your products to the shopping cart. Then, at checkout, click "Request A Quote."
 Your cart will be emailed and saved for either you or your administrator to come back and execute the order.