Leybold LD Didactic
Regular price
Sale price
$2,250.00
Unit price
per
Sale
Sold out
High Voltage Power Supply 25kV
Single-ended high-voltage source, continually adjustable or controllable via an external voltage, for electrostatic experiments. The integrated three-digit display shows the voltage present at each of the output sockets. Passive current limiting ensures that no dangerous contact voltages can occur.
Technical Data
• Output voltage:
0 to 25 kV, continuous,
4-mm safety sockets
• Load capacity: max. 0.5 mA* (short-circuit current)
• Discharge energy: max. 200 mJ*
• Voltage indicator:
LED, 3-digit, 14 mm
• External control voltage:
0 - 5 V DC
0 - 5 Vp up to 1 Hz
• Connection voltage: 110 V, 50/60 Hz
• Power consumption: 35 VA
• Protection: T 0.315 for 230 V
• Dimensions: 20 cm x 21 cm x 23 cm
• Weight: 3,1 kg
* In accordance with EN 61010-1 (VDE 0411), a part is not deemed to be live (i.e. carrying a
dangerous contact voltage) when, at voltages greater than extra-low voltage (> 60 V DC),
• the current through an induction-free resistance of 2 kOhm is not greater than 2 mA for DC,
• additionally, the charge for voltages up to 15 kV is less than 45 µC, and the stored energy does not
exceed 350 mJ for voltages over 15 kV.
INSTRUCTIONS FOR USE PLEASE CLICK HERE
Share
View full details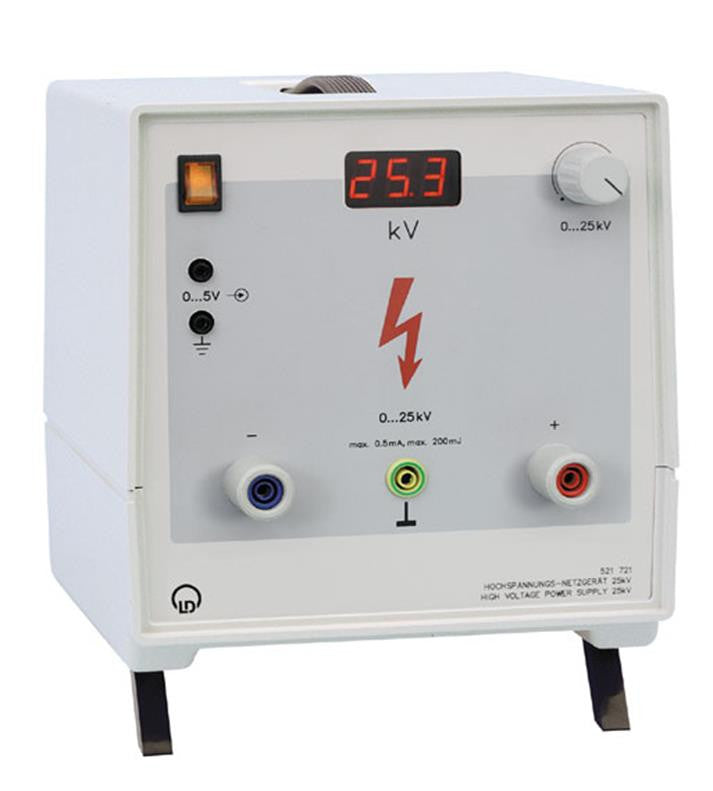 Do you need a formal quote for your purchasing department?
Add your products to the shopping cart. Then, at checkout, click "Request A Quote."
 Your cart will be emailed and saved for either you or your administrator to come back and execute the order.