Leybold LD Didactic
Regular price
Sale price
$10,545.00
Unit price
per
Sale
Sold out
Compact UV Spectrometer, Complete
Compact spectrometer for computer-assisted recording of emission spectra and absorption spectra in the UV range and the visible range, with cell holder and light source, additional light inlet through a freely movable optical fiber waveguide, equipped with a deuterium light source for the absorption measurements in the UV range.
Inside the spectrometer the light is split up by means of a fixed grating and projected onto a silicon CCD array. The intensity of all wavelengths is measured simultaneously, thus allowing measurement of even rapidly changing processes such as flame tests. The cell holder with the integrated light source allows the comfortable study of liquid substances. For absorption measurements first of all a reference spectrum is measured, then one of the absorbers to be studied in the path of the light. From the ratio the software calculates values such as transmission, absorption, etc.
Due to high measuring rate the study of color change reactions is also possible directly inside the cell. Can be used, for example, for photometric investigation and UV absorption of organic substances. With optical fiber waveguide also suitable for the recording of flame colors or gas discharge. Rapid recording of values by means of the CCD array.
Technical Data:
Spectrometer:
• Set-up: Czerny-Turner
• Detector: silicon CCD array • Wavelength range: 200 – 850 nm • Resolution: 2048 channels, optical band width 2 nm (FWHM) • Integration time: 3 ms to 1 s • Computer connection: USB • Power supply: via USB • Fibre connection: SMA 905 • Dimensions: 89 mm x 63 mm x 34 mm • Mass: 190 g
Cell holder with light source: • Light source: deuterium tungsten • Wavelength range: 200 – 850 nm • Computer connection: via spectrometer • Power supply: external power supply (included) • Dimensions: 89 mm x 78 mm x 34 mm • Weight: 200 g
Scope of Delivery:
• Spectrometer • SpectraLab software • Optical fibre • Cell holder with light source
Share
View full details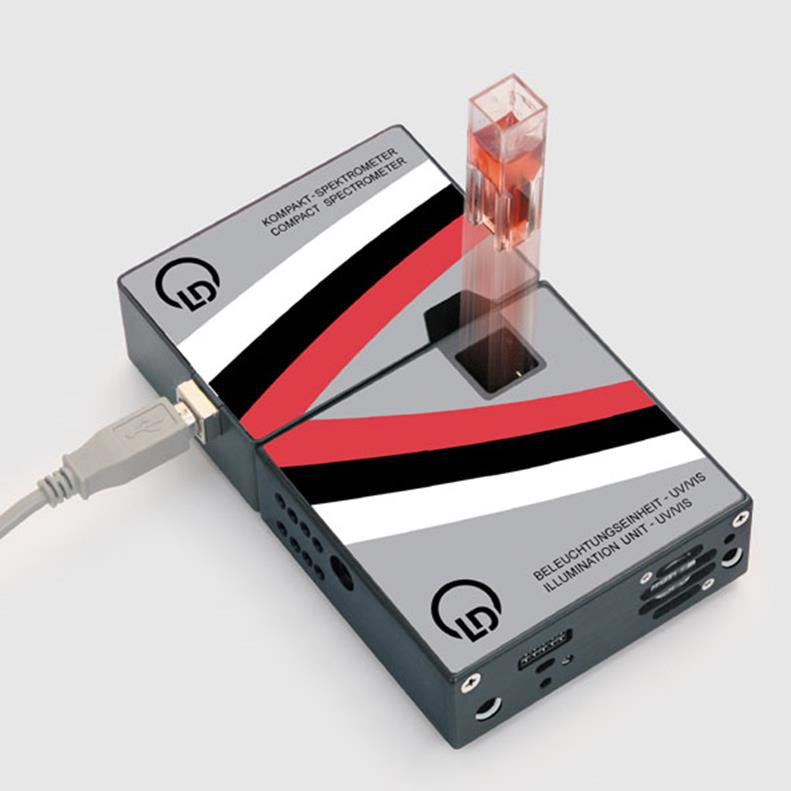 Do you need a formal quote for your purchasing department?
Add your products to the shopping cart. Then, at checkout, click "Request A Quote."
 Your cart will be emailed and saved for either you or your administrator to come back and execute the order.