KVANT
Regular price
Sale price
$665.00
Unit price
per
Sale
Sold out
Laser Optical Set LOS1, Red Laser with Magnet Table
The following principles can be clearly demonstrated: basic optical principles of light diffraction, the phenomena of coherent light interference, reconstruction of holographic images, the behavior of linearly polarized light, etc.
A set of optical and mechanical elements has been designed to make possible the observation and easy understanding of physical principles of wave optics. By such means the usual way of theoretical teaching may be raised to a higher level. It helps in demonstration of wave optics principles such as interference, diffraction, linear polarization of light or the hologram reconstruction. All components contain magnetic mounting base.
The set is packed in a plastic carrycase designated for the safe transport and convenient storage.
Following principles are easy to demonstrate: •
basic optical principles of light DIFFRACTION using diffraction elements included •
the phenomena of coherent LIGHT INTERFERENCE, 2-beam, as well as multi-beam interferometers, interference of both plane and spherical wave fronts •
reconstruction of HOLOGRAPHIC IMAGES •
the behavior of linearly POLARIZED LIGHT The set consists of: •
diode laser 635 nm - Pmax = 1 mW/ laser class: 2 mounted in adjustable holder •
2 pcs mirrors mounted in adjustable holders •
semitransparent mirror mounted in holder •
polarizing filter • lens • image screen mounted in holder •
ground screen mounted in holder •
plan parallel plate •
set of diffraction and interference structures •
hologram mounted in holder •
plastic carrycase • power supply 100-240V AC/ 3V DC •
battery box (2x 1.5V AA battery type) •
2 pcs universal holder •
holder of polarizing filter or lens •
magnetic board
manual_los.pdf  Click left for Manual
https://youtu.be/1Zb9zuFreeY?list=PLH2QeljEQjpbvH3kI4NQ1KtTl3weqZ0TE
Share
View full details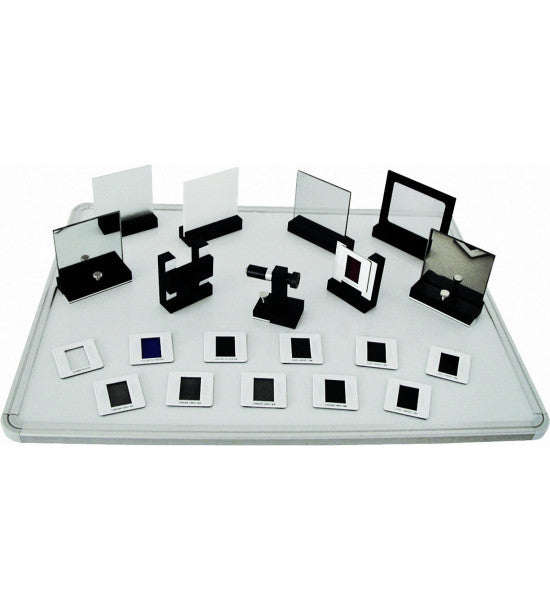 Do you need a formal quote for your purchasing department?
Add your products to the shopping cart. Then, at checkout, click "Request A Quote."
 Your cart will be emailed and saved for either you or your administrator to come back and execute the order.