Kemtec
Regular price
$237.30
Sale price
$185.00
Unit price
per
Sale
Sold out
Ionic Interaction 4-104
Target Grades: 9-12
This kit provides an introduction to ionic interactions by giving students exposure to a large number of reactions, allowing maximal observation for a limited amount of time and effort.  Includes precipitate forming, gas forming, and non-ionized product forming reactions. The investigation may be extended to teach students a number of additional basic chemical principles: writing ionic formulas for the products formed; writing ionic interaction equations; relating placement of elements in the periodic table to their reactivity; and developing solubility principles from empirical evidence. Ideal for high school chemistry or physical sciences studies. Follow-up activities are suggested at the end of the instruction manual. 
Designed for 24 students working in six groups of four.
Kit Contains:
Instructor's Manual with Reproducible Student Sheet MSDS Depression Plates Toothpicks, Plastic Calcium Nitrate Potassium Sulfate Cadmium Nitrate  Sodium Silicate Cobalt Nitrate Potassium Oxalate Barium Nitrate Potassium Phosphate Cupric Chloride Potassium Chromate Potassium Iodide Acetic Acid Manganese Nitrate Potassium Hexacyanoferrate (III) (Ferricyanide) Nickel Nitrate Potassium Hexacyanoferrate (II) (Ferrocyanide) Strontium Nitrate Silver Nitrate Lead Nitrate Ferric Nitrate Zinc Nitrate Chromium Nitrate Aluminum Nitrate  Potassium Bromide Potassium Hydroxide Potassium Chloride Potassium Carbonate
Share
View full details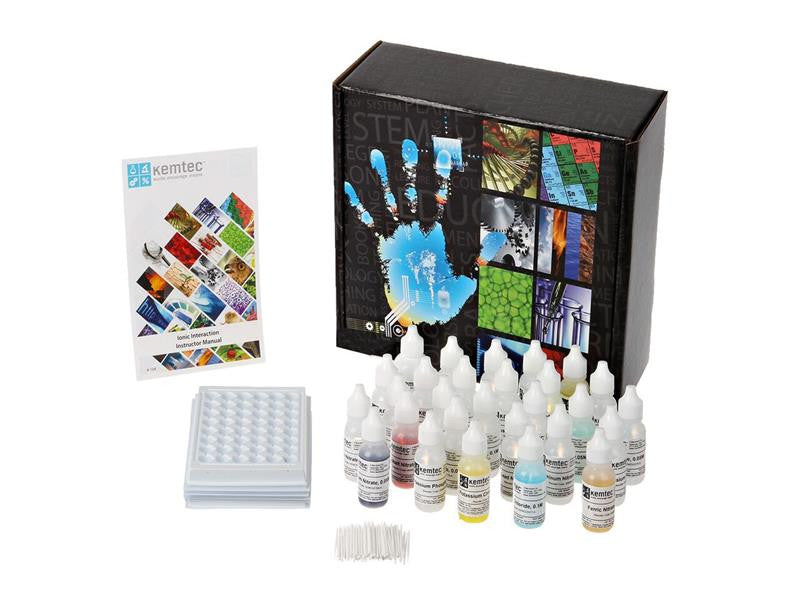 Do you need a formal quote for your purchasing department?
Add your products to the shopping cart. Then, at checkout, click "Request A Quote."
 Your cart will be emailed and saved for either you or your administrator to come back and execute the order.